We need hopeful news. Research suggests that people who consume negative news regularly "tend to have less trust in political leaders, lower evaluations of other people and communities, and more psychological problems," as Jill Suttie reported this year in Greater Good.
Hearing good news has the opposite effect: People become more generous, politically active, and mentally and physically healthy. "Journalists will always have to report on inherently negative issues," says media researcher Karen McIntyre of Virginia Commonwealth University. "But reporting in a constructive way would hopefully help people have a more realistic picture of the world."
That's why we offer our annual list of the year's most inspiring moments: not to put on rose-colored glasses, but to highlight the goodness that exists in the world.
Young father protects kids in shootout, gets help
Credit: Jose F. Moreno / Philadelphia Inquirer
In January, Jalil Frazier, a 28-year-old father of two, was shot and paralyzed protecting three kids during a robbery in Philadelphia. He was hailed as a hero—and then almost forgotten. But Philadelphia Inquirer columnist Helen Ubiñas kept reminding readers of Frazier's plight—and the impact of gun violence in Philadelphia and around the country. As a result of efforts like hers, Frazier received tens of thousands of dollars to help with mounting medical bills. While this charity is not enough to make up for deficiences in America's broken health-care system, it did help the family—and helped the family to feel less isolated. Learn what makes a hero.
Survivors of the Parkland shooting spark a new gun-safety movement
Credit: Mobilus In Mobili
On February 14, 2018, a former student killed killed 17 people at Marjory Stoneman Douglas High School in Parkland, Florida. The survivors sparked a state and national movement for stricter gun safety measures that racked up an impressive series of victories after years of stalled legislation, including raising the minimum age for buying rifles in Florida to 21 and (by the end of the year) a national ban on "bump stocks." In this image, protesters react during student Emma González's iconic six minutes of silence as part of her speech at the March for Our Lives on March 24, 2018. Discover seven scientific insights that can help you understand gun violence.
Professor holds student's baby during class
In the first quarter of the year, this photo went viral on social media: physics professor Bruce Johnson holding an infant while he teaches. Arkansas State University has a large adult commuter population, which means that sometimes students find themselves in a childcare bind. Rather than turns infants and toddlers away, Johnson welcomes them in and makes them a part of the class. "I hope that no parent ever feels like a classroom is an unfriendly place for their kids," Johnson told CNN. Learn how nature equips men to nurture.
The Thai cave rescue
Credit: AFP
At the end of June, twelve boys and their soccer coach were trapped by sudden flooding in the Tham Luang cave system in Thailand. The ensuing two-week drama drew help and resources from around the world. "Luckily the coach had the sanity of mind to keep them all together, huddled together to conserve their energy, that basically saved them," Ben Reymenants, a Belgian diver who helped with the rescue operation, told AFP news agency. One diver died in the rescue, which ultimately brought all the boys and the coach out alive. In this image, family members celebrate on hearing news that all members of children's football team and their coach were safe. Learn how social support increases resilience.
Jewish doctor and nurse reject hate after synagogue shooting
Credit: Channel 4 Action News
It felt like one of the worst events of the year: In October, a anti-Semitic gunman killed 11 people at a Pittsburgh synagogue. Jeff Cohen (above) is a member of the synagogue and the president of Allegheny General Hospital, where the gunman was taken after he was shot by police. "My job isn't to judge him," Cohen told United Kingdom's Channel 4 News. "My job is to care for him." Ari Mahler, a nurse who directly treated the gunman, later wrote on Facebook:
Love. That's why I did it. Love as an action is more powerful than words, and love in the face of evil gives others hope. It demonstrates humanity. It reaffirms why we're all here. The meaning of life is to give meaning to life, and love is the ultimate force that connects all living beings. I could care less what [the gunman] thinks, but you, the person reading this, love is the only message I wish instill in you. If my actions mean anything, love means everything.
Discover what's driving political violence in America and eight ways to stand up to hate.
NASA celebrates Insight landing
NASA made history on Nov. 26 when the InSight Mars lander touched down on the plains of Elysium Planitia. The lander represents a spectacular technical achievement—and serves as a reminder that humans (and Americans) are capable of doing great things when we pool our resources and work together. Find out how a feeling of awe stimulates cooperation and curiosity and makes you feel more connected to other people.
The women in the elevator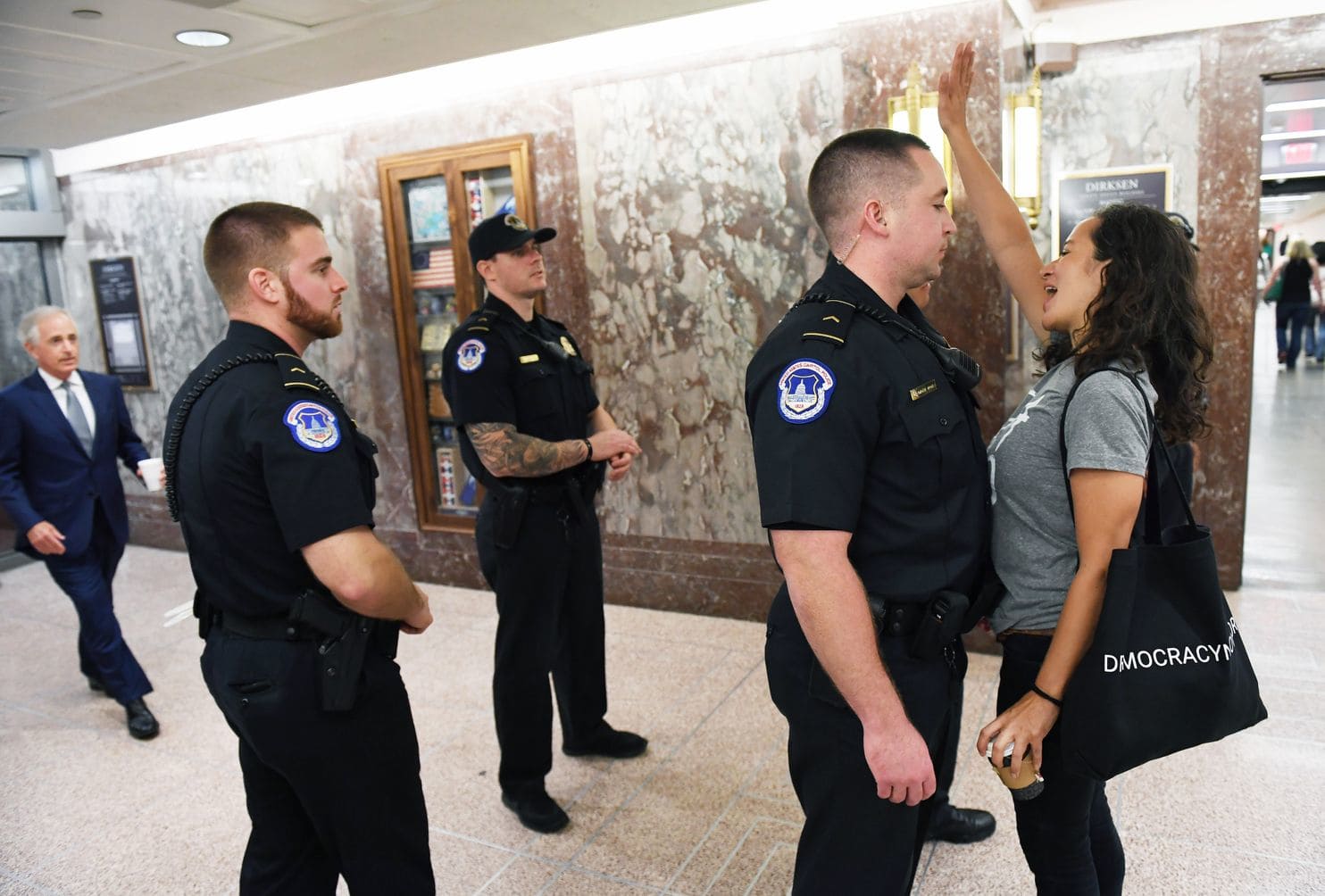 Credit: Matt McClain / The Washington Post
When Ana Maria Archila (above in the Dirksen Senate Office Building) and Maria Gallagher blocked the closing doors of an elevator carrying Sen. Jeff Flake (R-Ariz.), they held his attention for five minutes—and apparently changed his mind about supporting Supreme Court nominee Brett M. Kavanaugh, who faced allegations of sexual assault and misconduct. Kavanaugh was ultimately confirmed, but the actions of Archila, Gallagher, and Flake remind us that Americans can listen to each other and change our minds based on a combination of empathy and new information. Learn more about how to mobilize men against sexual harassment and how women can use their anger for good.
200 countries keep the Paris climate agreement alive
Janek Skarzynski/Agence France-Presse — Getty Images
In this image, the president of the climate talks in Katowice, Poland, leaps over his desk as the final session ended in December. Michal Kurtyka presided over an intense, marathon gathering of 200 countries that ultimately adopted a detailed set of rules to implement the the Paris climate agreement, which "calls on countries to step up their plans to cut emissions ahead of another round of talks in 2020, as the New York Times reports. "It also calls on richer countries to be clearer about the aid they intend to offer to help poorer nations install more clean energy or build resilience against natural disasters. And it builds a process in which countries that are struggling to meet their emissions goals can get help in getting back on track" Learn how to overcome "apocalypse fatigue" around climate change.