Fall/Winter 2005-06 (Volume II, Issue 2)
The Science and Practice of Empathy
Can we really feel someone else's pain? Research and stories featured in this issue of Greater Good shed light on our deeply rooted ability to empathize with other people, enabling us to feel their emotions as our own. Authors explore the biological roots of empathy, explain ways to cultivate it, and consider how current social conditions inhibit the expression of empathy in the United States. The issue also features an interview with Robert Putnam, author of the book Bowling Alone, about what Hurricane Katrina revealed about Americans' sense of community.
In Brief
By | September 1, 2006
What's the key to academic success for kids struggling in school, especially those coming from disadvantaged backgrounds?
Q&A
By | September 1, 2005
An Interview with Bowling Alone author Robert Putnam
Ideas for the Greater Good
By | September 1, 2005
What message are we sending kids when their classrooms are an "insult to aesthetics"?
Most...
March 20, 2017

Recent research suggests that the quest for constant bliss is misguided.

March 29, 2017

Most people think lying is wrong—unless it's for a "good" cause. This may explain why Donald Trump gets away with it.


March 23, 2017

How do we combat racial prejudice? New research reveals how parents influence the formation of bias in children.
Greater Good Events
The Science of Burnout: What Is It, Why It Happens, and How to Avoid It
International House at UC Berkeley
April 29, 2017
6 CE Hours
A day-long semiar with GGSC Science Director Emiliana Simon-Thomas, Ph.D., celebrated compassion teacher Joan Halifax, burnout expert Christina Maslach, Ph.D., and UCLA psychiatrist Elizabeth Bromley, M.D., Ph.D.
» ALL EVENTS
Take a Greater Good Quiz!
How compassionate are you? How generous, grateful, or forgiving? Find out!
» TAKE A QUIZ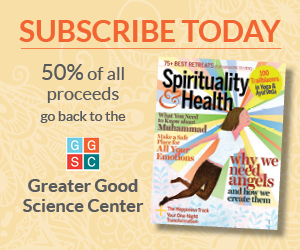 Watch Greater Good Videos
Talks by inspiring speakers like Jon Kabat-Zinn, Dacher Keltner, and Barbara Fredrickson.
Watch
Book of the Week
How Pleasure Works
Bloom explores a broad range of human pleasures from food to sex to religion to music. Bloom argues that human pleasure is not purely an instinctive, superficial, sensory reaction; it has a hidden depth and complexity.
» READ MORE
"It is a great good and a great gift, this Greater Good. I bow to you for your efforts to bring these uplifting and illuminating expressions of humanity, grounded in good science, to the attention of us all."
Jon Kabat-Zinn
Best-selling author and founder of the Mindfulness-Based Stress Reduction program
Story Topics
Find the subjects that interest you.