Fall/Winter 2006-07 (Volume III, Issue 2)
The Bystander's Dilemma
This issue takes a provocative look at "the psychology of the bystander": What is it that induces some people to come to the aid of others in distress, while other people do nothing? Scientists have considered this question for years. Now Greater Good examines the fruits of their research and applies it to contemporary ethical issues concerning education, war, journalism, and more.
In Brief
By | September 1, 2006
Q&A
By | September 1, 2006
An Interview with Philip Gourevitch
Tools for the Greater Good
Ideas for the Greater Good
By | September 1, 2006
Most...
March 14, 2017

Mindful people might be happier because they have a better idea of who they are, suggests a new study.

March 20, 2017

Recent research suggests that the quest for constant bliss is misguided.

March 8, 2017

New research explores how men and women think about moral decisions—and how women's voices can benefit business and society.
Greater Good Events
The Science of Burnout: What Is It, Why It Happens, and How to Avoid It
International House at UC Berkeley
April 29, 2017
6 CE Hours
A day-long semiar with GGSC Science Director Emiliana Simon-Thomas, Ph.D., celebrated compassion teacher Joan Halifax, burnout expert Christina Maslach, Ph.D., and UCLA psychiatrist Elizabeth Bromley, M.D., Ph.D.
» ALL EVENTS
Take a Greater Good Quiz!
How compassionate are you? How generous, grateful, or forgiving? Find out!
» TAKE A QUIZ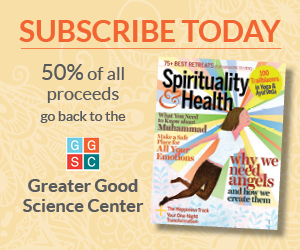 Watch Greater Good Videos
Talks by inspiring speakers like Jon Kabat-Zinn, Dacher Keltner, and Barbara Fredrickson.
Watch
Book of the Week
How Pleasure Works
Bloom explores a broad range of human pleasures from food to sex to religion to music. Bloom argues that human pleasure is not purely an instinctive, superficial, sensory reaction; it has a hidden depth and complexity.
» READ MORE
"It is a great good and a great gift, this Greater Good. I bow to you for your efforts to bring these uplifting and illuminating expressions of humanity, grounded in good science, to the attention of us all."
Jon Kabat-Zinn
Best-selling author and founder of the Mindfulness-Based Stress Reduction program
Story Topics
Find the subjects that interest you.