Fall 2004 (Volume I, Issue 2)
Why to Forgive
This issue of Greater Good features a series of essays about forgiveness. Leading scientists present ground-breaking evidence of how forgiving can improve personal health and strengthen social bonds, Archbishop Desmond Tutu discusses the moral and political reasons for forgiving, and people from different walks of life share their stories of forgiveness. The issue also includes an interview with former United States Labor Secretary Robert Reich on the relationship between social justice and social empathy.
Q&A
By | September 1, 2004
An interview with Robert Reich.
Tools for the Greater Good
Ideas for the Greater Good
By | September 1, 2004
Why Americans need more chances to serve their country—and each other.
Most...
April 17, 2017

Christine Carter knows meditation is good for her—but she still avoids it. Here's how she's trying to change.

April 20, 2017

The instructor of the world's most popular MOOC explores how to change your life through the power of learning—and why you have more potential than you think.

April 26, 2017

A new study suggests more empathic police officers are less likely to become discouraged and demoralized.
Greater Good Events
Take a Greater Good Quiz!
How compassionate are you? How generous, grateful, or forgiving? Find out!
» TAKE A QUIZ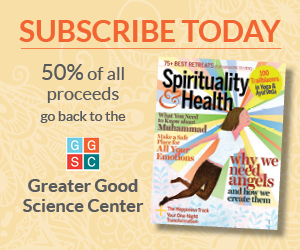 Watch Greater Good Videos
Talks by inspiring speakers like Jon Kabat-Zinn, Dacher Keltner, and Barbara Fredrickson.
Watch
Book of the Week
How Pleasure Works
Bloom explores a broad range of human pleasures from food to sex to religion to music. Bloom argues that human pleasure is not purely an instinctive, superficial, sensory reaction; it has a hidden depth and complexity.
» READ MORE
"It is a great good and a great gift, this Greater Good. I bow to you for your efforts to bring these uplifting and illuminating expressions of humanity, grounded in good science, to the attention of us all."
Jon Kabat-Zinn
Best-selling author and founder of the Mindfulness-Based Stress Reduction program
Story Topics
Find the subjects that interest you.