Spring/Summer 2005 (Volume II, Issue 1)
Is Goodness Contagious?
Can witnessing acts of goodness compel people to act better themselves? It can, according to new research featured in this issue of Greater Good. Scientists discuss how this capacity for moral inspiration might improve our work and personal lives, and they explore the possibility that it is even a biologically based part of our behavior. The issue also features an interview with Jan Egeland, the U.N. official responsible for the emergency aid response to the Indian Ocean tsunami, and articles about how to raise levels of empathy among school children and jail inmates.
In Brief
By | March 1, 2005
Q&A
By | March 1, 2005
An interview with Jan Egeland, United Nations Under-Secretary-General for Humanitarian Affairs
Ideas for the Greater Good
By | March 1, 2005
How we can help children see the world from another perspective.
Most...
May 17, 2017

When a relationship is causing you stress and suffering, follow these five steps to find more peace.

May 10, 2017

According to a new study, pregnant women lose gray matter in their brains—and this process helps them figure out what other people need and feel.


May 16, 2017

According to a new study, your ability to appreciate your partner's strengths is linked to their well-being—and yours.
Greater Good Events
The Greater Good Science Center Summer Institute for Educators 2017
Clark Kerr Campus, UC-Berkeley
Sunday, June 25 - Friday, June 30, 2017 OR Sunday, July 16 - Friday, July 21, 2017
The GGSC's six-day Summer Institute equips education professionals with prosocial learning strategies, tools and processes that benefit both students and teachers.
» ALL EVENTS
Take a Greater Good Quiz!
How compassionate are you? How generous, grateful, or forgiving? Find out!
» TAKE A QUIZ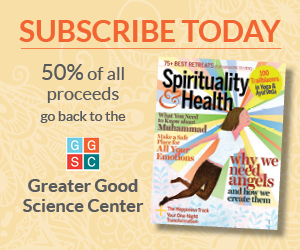 Watch Greater Good Videos
Talks by inspiring speakers like Jon Kabat-Zinn, Dacher Keltner, and Barbara Fredrickson.
Watch
Book of the Week
Roots of Empathy
Mary Gordon explains how best to nurture empathy and social emotional literacy in all children—and thereby reduce aggression, antisocial behavior, and bullying.
» READ MORE
"It is a great good and a great gift, this Greater Good. I bow to you for your efforts to bring these uplifting and illuminating expressions of humanity, grounded in good science, to the attention of us all."
Jon Kabat-Zinn
Best-selling author and founder of the Mindfulness-Based Stress Reduction program
Story Topics
Find the subjects that interest you.