Authors
Erica Reischer
Erica Reischer, Ph.D., is a psychologist, author, speaker, and parent educator. She earned a Ph.D. from the University of Chicago in Psychology / Human Development, and is an honors graduate of Princeton University.
A former consultant with McKinsey & Company, Dr. Reischer sits on the advisory board for Happy Healthy Kids and leads popular parenting classes at schools and organizations such as UCSF Benioff Children's Hospital, Habitot Children's Museum, and University of California.
Her writing about children and families appears in The New York Times, The Washington Post, Psychology Today, and The Atlantic. She is also the author of What Great Parents Do: 75 Simple Strategies for Raising Kids Who Thrive (Penguin Random House, August 2016).
Stories by Erica Reischer
By
Erica Reischer
| October 18, 2016
Research on couples shows a surprising way to improve intimacy after having kids.
Most...
February 14, 2017

Recent research sheds light on a question that obsesses many people.

February 20, 2017

A new review of many studies suggests that our personality isn't as unchangeable as we think.

February 10, 2017

Research suggests that spending too little time in nature deprives us of benefits to our health, happiness, and creativity.
Greater Good Events
The Science of Happiness
Online
Self-paced version of our acclaimed course is open now. Join anytime!
A free online course exploring the roots of a happy, meaningful life. Co-taught by the GGSC's Dacher Keltner and Emiliana Simon-Thomas. Up to 16 CE credit hours available.
» ALL EVENTS
Take a Greater Good Quiz!
How compassionate are you? How generous, grateful, or forgiving? Find out!
» TAKE A QUIZ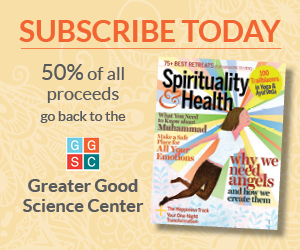 Watch Greater Good Videos
Talks by inspiring speakers like Jon Kabat-Zinn, Dacher Keltner, and Barbara Fredrickson.
Watch
Book of the Week
How Pleasure Works
Bloom explores a broad range of human pleasures from food to sex to religion to music. Bloom argues that human pleasure is not purely an instinctive, superficial, sensory reaction; it has a hidden depth and complexity.
» READ MORE
"It is a great good and a great gift, this Greater Good. I bow to you for your efforts to bring these uplifting and illuminating expressions of humanity, grounded in good science, to the attention of us all."
Jon Kabat-Zinn
Best-selling author and founder of the Mindfulness-Based Stress Reduction program
Story Topics
Find the subjects that interest you.