Tag: Self-actualization
These are the most recent things on the site for the tag: Self-actualization. You can view more tags here.
By
Shannon McIntyre
| February 16, 2007
By
Christine Carter
| September 1, 2005
Edited by P. Alex Linley and Stephen Joseph
Wiley, 2004, 770 pages

Most...
April 17, 2017

Christine Carter knows meditation is good for her—but she still avoids it. Here's how she's trying to change.

April 20, 2017

The instructor of the world's most popular MOOC explores how to change your life through the power of learning—and why you have more potential than you think.

April 26, 2017

A new study suggests more empathic police officers are less likely to become discouraged and demoralized.
Greater Good Events
The Greater Good Science Center Summer Institute for Educators 2017
Clark Kerr Campus, UC-Berkeley
Sunday, June 25 - Friday, June 30, 2017 OR Sunday, July 16 - Friday, July 21, 2017
The GGSC's six-day Summer Institute equips education professionals with prosocial learning strategies, tools and processes that benefit both students and teachers.
» ALL EVENTS
Take a Greater Good Quiz!
How compassionate are you? How generous, grateful, or forgiving? Find out!
» TAKE A QUIZ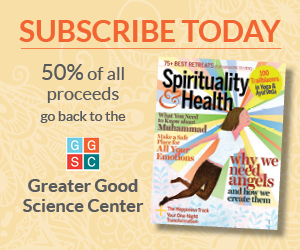 Watch Greater Good Videos
Talks by inspiring speakers like Jon Kabat-Zinn, Dacher Keltner, and Barbara Fredrickson.
Watch
Book of the Week
How Pleasure Works
Bloom explores a broad range of human pleasures from food to sex to religion to music. Bloom argues that human pleasure is not purely an instinctive, superficial, sensory reaction; it has a hidden depth and complexity.
» READ MORE
"It is a great good and a great gift, this Greater Good. I bow to you for your efforts to bring these uplifting and illuminating expressions of humanity, grounded in good science, to the attention of us all."
Jon Kabat-Zinn
Best-selling author and founder of the Mindfulness-Based Stress Reduction program
Story Topics
Find the subjects that interest you.