Fall 2008 (Volume V, Issue 2)
Who Do You Trust?
Trust is essential to families, friendships, governments, businesses, and even the global economy—and yet it has been declining for years. This issue of Greater Good explores why trust is so important, and how we can rebuild it.
Guest Column
By | September 1, 2008
A new book and CD help students build emotional intelligence.
Q&A
By | September 1, 2008
An Interview with psychologist and author Steven Pinker
Tools for the Greater Good
Ideas for the Greater Good
By | September 1, 2008
Most...
February 14, 2017

Recent research sheds light on a question that obsesses many people.

February 20, 2017

A new review of many studies suggests that our personality isn't as unchangeable as we think.

February 13, 2017

A 20-year study of consensually non-monogamous adults reveals seven lessons for anyone who wants to keep love alive.
Greater Good Events
The Science of Happiness
Online
Self-paced version of our acclaimed course is open now. Join anytime!
A free online course exploring the roots of a happy, meaningful life. Co-taught by the GGSC's Dacher Keltner and Emiliana Simon-Thomas. Up to 16 CE credit hours available.
» ALL EVENTS
Take a Greater Good Quiz!
How compassionate are you? How generous, grateful, or forgiving? Find out!
» TAKE A QUIZ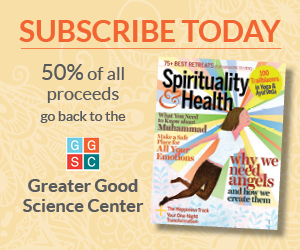 Watch Greater Good Videos
Talks by inspiring speakers like Jon Kabat-Zinn, Dacher Keltner, and Barbara Fredrickson.
Watch
Book of the Week
How Pleasure Works
Bloom explores a broad range of human pleasures from food to sex to religion to music. Bloom argues that human pleasure is not purely an instinctive, superficial, sensory reaction; it has a hidden depth and complexity.
» READ MORE
"It is a great good and a great gift, this Greater Good. I bow to you for your efforts to bring these uplifting and illuminating expressions of humanity, grounded in good science, to the attention of us all."
Jon Kabat-Zinn
Best-selling author and founder of the Mindfulness-Based Stress Reduction program
Story Topics
Find the subjects that interest you.