Fall 2007 (Volume IV, Issue 2)
The 21st Century Family
This issue of Greater Good gets past overheated rhetoric to discover what recent research shows about how the American family is changing, and how this transformation has impacted all of our lives. Some of the contributors to this issue are famed scholars who have studied the family extensively; others are ordinary people who have seen their typically atypical families go through some extensive changes. What they have in common is a willingness to confront these changes head-on and seek real solutions to the problems they confront. Their essays offer suggestions for how contemporary families can still thrive during this period of intense change.
Guest Column
By | September 1, 2007
How can we put social intelligence online?
Pop Culture Review
By | September 1, 2007
Does The Secret offer winning advice … or snake oil? Maybe a bit of both.
Ideas for the Greater Good
By | September 1, 2007
Most...
April 12, 2017

Learning to express anger in a healthy way will help couples resolve conflicts, instead of letting them simmer.

April 17, 2017

Christine Carter knows meditation is good for her—but she still avoids it. Here's how she's trying to change.

April 13, 2017

Technology can make our lives happier and more productive—but only if we use it intentionally, a new book argues.
Greater Good Events
The Science of Burnout: What Is It, Why It Happens, and How to Avoid It
International House at UC Berkeley
April 29, 2017
6 CE Hours
A day-long semiar with GGSC Science Director Emiliana Simon-Thomas, Ph.D., celebrated compassion teacher Joan Halifax, burnout expert Christina Maslach, Ph.D., and UCLA psychiatrist Elizabeth Bromley, M.D., Ph.D.
» ALL EVENTS
Take a Greater Good Quiz!
How compassionate are you? How generous, grateful, or forgiving? Find out!
» TAKE A QUIZ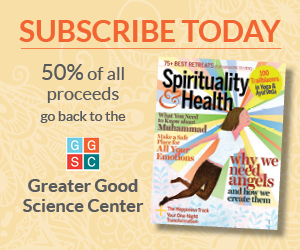 Watch Greater Good Videos
Talks by inspiring speakers like Jon Kabat-Zinn, Dacher Keltner, and Barbara Fredrickson.
Watch
Book of the Week
How Pleasure Works
Bloom explores a broad range of human pleasures from food to sex to religion to music. Bloom argues that human pleasure is not purely an instinctive, superficial, sensory reaction; it has a hidden depth and complexity.
» READ MORE
"It is a great good and a great gift, this Greater Good. I bow to you for your efforts to bring these uplifting and illuminating expressions of humanity, grounded in good science, to the attention of us all."
Jon Kabat-Zinn
Best-selling author and founder of the Mindfulness-Based Stress Reduction program
Story Topics
Find the subjects that interest you.